Posted on 15-11-2022
HDMS Ejnar Mikkelsen
The Danish Navy Vessel HDMS Ejnar Mikkelsen has arrived to Søby Shipyard for a 15 years inspection.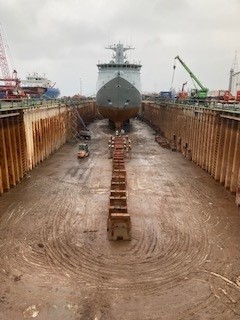 The Danish Navy vessel HDMS Ejnar Mikkelsen arrived Tuesday morning 14th November to SØBY Shipyard, for a 15 years inspection.
HDMS Ejnar Mikkelsen is the second vessel in the Knud Rasmussen class, which is a class of offshore patrol vessels operating in the Royal Danish Navy. The vessel is named after a famous Danish polar explorer and author.
The normal patrol area of the HDMS Ejnar Mikkelsen, and her sister ships, is in the waters around Greenland, but for the next period of time the vessel can be seen in Dock III at SØBY Shipyard.